Wayne Bks aka Conform
Wayne Bks (b. 1981) grew up in Cape Town, where as a kid he lived in Mitchells Plain, Mowbray, Steenberg and Muizenberg.
After school he moved to Johannesburg where he did a three-year course at the AAA School of Advertising. It was during this time that he became active as a graffiti artist.
He moved back to Cape Town in 2004 where he focussed on doing freelance graphic design and street art murals.
Working in the formal sector while at the same time being active in the informal world of street art led to his adoption of the pseudonym Conform. The word also refers to Artificial Intelligence and Orwellian surveillance, both themes that have a strong presence in his work.
Initially his work featured an array of A.I. inspired characters, often satirical, drawn in a textured style. This textured style became more refined and as he dropped the robots he moved towards the drawing of geometric cityscapes and objects, something he refers to as "Architexture".
He uses paint markers for the drawings and his spray-painted works are extensions of the sketches.
The years 2004 – 2009 were characterised by him managing a full-time career in advertising while gaining ground as a graffiti artist and creating and managing hip hop events with now household names Ninja and Yolandi Visser, Niskerone, Raiko, Sibot, Marcus Wormstorm, Ben Sharpa, Isaac Mutant and more.
Since 2010 his focus had been on creating murals for clients, at events and in collaborations with other graffiti artists. His commissioned and private work is prominent in Cape Town and can be seen in many neighbourhoods. Public commissions include an extensive project for MyCiti bus stations, while clients like Samsung, Woolworths and Converse are just a few on a long list of past and present clients.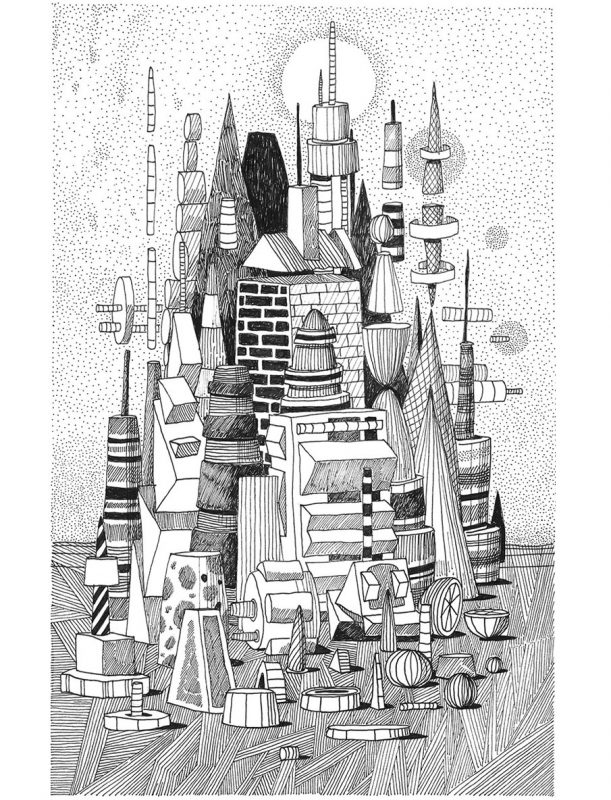 Architexture: Machine city | Hand-signed and numbered by artist | Printed with pigment ink on True Fibre Matte 200gsm paper | Size A2 (59cm x 42cm / 23.39 x 16.53 inches) | Embossed | Certificate supplied | R1 500